L'Étoile
A mid-February day's remaining sunlight shimmers through rain that pelts rows of naked, brown shells of horse-chestnut trees, bending them into submission down the wide promenade.   Tuesday has arrived, and she is getting cold feet.   Only the thought of reuniting with her lover for a stellar rendezvous consoles, fills, Josie with warmth like tempered chocolate in a flaky croissant pocket or like melted Gruyère stretching from her puffy lips to les croûtons bobbing up and down in brandied beef broth inside a cobalt blue ramekin de la soupe à l'oignon gratinée.
With each splash of her oversize galoshes, the gargantuan stone arch seems to march another mile from her grasp. Silver sequins of rain shimmy from the city's erotic currents, and the welcome dampness is soaking down to her teak-brown skin. Glistening with earthy aromas like her long-distance lover's opalescent spray, she feels rejuvenated, as if impasto textures have been applied to her previously bland canvas.
Three-fifteen. Josie's heart is pulsating so erratically that each puddle she stamps is quaking with the threat of tsunami. Raindrops strike her triple-pierced earlobes like fingertips on piano keys in the intro to Aretha Franklin's "Daydreaming" looped into infinity. Split-screen images of him wash over her two-track mind as she ponders his Houdiniesque disappearance and aches for his Rodin-inspired kiss.
In an hour she will count down the minutes to the moment that her passion will surge.  Like a New York Marathon champion from Kenya once again chasing the gold medal, she will feel the velocity in her pulse as she races to the finish line, too impassioned to sense the chill in the air.  Breathless, with only him on her mind, knowing that without him she cannot survive another day, she will extend her arms in victory — a winner at love — marking a new beginning for their fissured valentine.  Love might conquer time, after all.  Or, sprinting toward loverman's extended arms, she might dash past reason only to get injured again.
One more hour of these arrhythmias and I'll need a pacemaker or a coffin, she contemplates through the torrent as she walks down l'Avenue des Champs-Êlysées.
Sixty minutes and it will be l'heure de pointe.   Rush-hour.   Her head will be spinning faster than the impatient Citroëns and taxis whirling around the road-carved star. L'Étoile.   There, above the rumbling of a métro, a love as monumental as l'Arc de Triomphe will await.
"Meet me at l'Étoile" was his urgent command earlier that day.  And, "Je veux t'embrasser."  Her lips puckered.  Josie hardly could wait to kiss him right back. Cupping her free ear, she tried in vain to block out the din that reverberated throughout an Internet café teetering on the corner of a crumbling street no wider than a ruler in the Marais.  Damn, she pondered, why didn't I go with my first choice, around the corner: Frères Camembert Salon de Thé?  I would've had my choice of two hundred fifty kinds of tea.
No matter how she tried to fake composure, her jangling nerves betrayed her. Adding to her instability were curvaceous Gallic voices undulating around her like a microscopic harem stoking little fires in hidden, swelling places. Eyes twitching and fingers bouncing like jumping jacks off the sturdy wooden table, she worried that she had lost too much weight, that her boyfriend would not have enough to hold onto. A New Age dimension of insecurity had crept into her self-image, but her and Bene's frequent webcams were only partly to blame. She needed to make a sensual impression on the primitive part of his brain, the same area involved in the unconscious process of reproductive selection, even though his children could never have her eyes.
Bene was a Frenchman, but he was of Senegalese extraction, and he loved what Josie termed "fatback chat," such as: "My man takes me to all-you-can-eat buffets because he wants me to keep that junk in my trunk. And I like how he be packin' in the front, especially when he pushes up on me mornin' and night." Whenever she would ask him whether he was attracted to tall, slender Wolof women from his original country of origin, he would quip, "But you are not Senegalese."
When she would beseech him with, "Where am I from?" he would deepen his tenor to a baritone and answer: "Venus."
* * * * * * * * * * * * * * * * * * * * * * * * * *
When Bene first began courting Josie, while he was staying in Downtown Manhattan, she appreciated his attentive behavior but undervalued the authenticity of his actions. Her other mistakes were that she slung around her independence like a shield and clashed with him over cultural issues. Accustomed to setups, a/k/a blind dates, and hookups, she sometimes would wonder, Is this man for real?
What she knew with certainty was that he made her blush every time he spoke French to her. Putting a gender-bending spin on the lead characters of "The Addams Family," she was Gómez to his Morticia. That retro-television allusion was totally lost on Bene. Exasperated by his indifference to something she considered hilarious and subversively sensual, she burned several DVDs of "The Addams Family" reruns from cable television.
On the same Saturday that he had viewed the programs, he e-mailed her late that night (her early Sunday morning) and attached a photo that sent her into a fit of uncontrollable laughter.  The image showed him wearing a long, tan skirt over his head and black shades over the fabric. "'Cousin It' freaked me out, Josie," he wrote her.   As funny as his comment was, she could not shake the question:  To whom did that tan skirt belong?
They had met in the States, in the art section of the Borders bookstore at World Trade Center, in the fall of 1998. Their physical attraction was mutual.  Instantaneous. At the time, they were in their late twenties. While she was eking out a living as a high-school teacher in inner-city Brooklyn, Manhattan and the Bronx, he was attending art school to learn formal oil painting techniques and working part time as a waiter in the Theater District.
Bene was rooming with a fellow painter and countryman named Jacques in Battery Park City in the latter's permanent U.S. condo. Jacques had been born into wealth.   Old Parisian money.   Through Jacques' tight circle of friends and some of their business colleagues, Bene started to garner significant attention on the Parisian art scene and — after studying at the Sorbonne — the London, Barcelona, New York, Philadelphia, Los Angeles and Tokyo art scenes.
After their first, unofficial date at Borders' Café Expresso, where they had continued their discussion of Picasso's West African influences, there were many planned dates. Like any two people on severely limited time, who try to learn about each other's worlds, inspirations and dreams, Josie and Bene crammed their personal information into one another.
It naturally followed that, by the time she was visiting him in Paris' La Goutte d'Or in the eighteenth arrondissement during the summer of 1999, Bene was cramming something more elementally personal into her. After much discussion about leaving biological footprints, they did not wait until she was ovulating to try to start a family. No time of the month was spared. Anytime, anyplace, as Janet Jackson sang during her mewling Marilyn phase.
Josie was always ready to receive Bene's delectable, dark dong, but she was uncertain about their gametes' chemical compatibility. Prior to the exact moment of penetration, she visualized an army of his rapacious spermatozoa splashing through her lagoon and ramming their way to her barrier reef. Isolating her feisty egg, the salacious soldiers battled each other for immortality, their heads bulging with Bene's DNA.
If they were doing it in the missionary position, when he busted an aquanut she would watch his eyes crossing like the frantic arms of a swimmer in peril within reach of a phalanx of lifeguards. Sexing each other face to face or doggy-style, she abandoned seductive whimpers for dissonant wails and braced for his subterranean blast of spunk.
Spiritually, it made sense to Josie to create a family with a Black African because in her family (both matrilineal and patrilineal), no genealogical documentation prior to the twentieth century existed. Bene was sympathetic toward his girlfriend's massive identity crisis, and he agreed with her that genetics testing did not fully solve the puzzle of one's ancestral identities. Without the full cooperation and honesty of living family members, swabbing one's cheek only would interpret the science of one's anthropological identity.
The next summer, they set out nearly every day from his 'hood near the African marketplace to ride each other bareback in some of central Paris' most unusual locations: on a narrow wooden bench on the third level of the Eiffel Tower at sunset; inside the fountain at the Jardin de Tuileries in the midst of elderly pigeon-feeders at dawn; and on the Seine's lower quais at sunrise and sunset. The month of August saw them joining the city's denizens for a mass exodus to points north and south, where they sucked and fucked away on the TGV.
France offered her fecund earth, luxuriant seas and faience-blue sky to two young, Black free spirits. Roaming le terroir et la mer like lovers' hands and lips exploring one another's flesh for the first time, Bene and Josie discovered and experimented with unmarked boundaries during baccanalian days and nights that their feverish minds promised to be eternal.  Off beaten paths, they abandoned their sturdy bicycles to enjoy a handjob and fingering by a mountain stream. They indulged in raw oysters and boning in Brittany; wet humping in view of verdant water lilies in Monet's Giverny gardens; blending their perfumes in lavender fields in Provence; puckering up outside the princely palace in Monaco; rocking Jacques' yacht beneath winking stars in Marseilles; and climaxing under a rainbow on Cannes sands.
Before Josie flew home for a new school season, Bene gave a pop quiz in French poetry.   She earned an "F."   He laid her down on his balcony and thumbed her clit through dips and runs in Joni's "Help Me."   Mercilessly. After showering, they moved their slick, hot brown bodies to the cinnamon-toned salon. There, they briefly untangled tongues so that he could bring out family photo albums and, moments later, a gilt-edged Limoges tray of fruit.
Walking toward Josie to synth swells of a Maxwell classic — "Mellosmoothe"– throbbing from his wall-mounted sound system, Bene lifted the elegant, heirloom tray as if trying not to distract her piercing stare from the family jewels that were swinging beneath his stiff ebony staff. He stopped ten inches in front of her, leaving just enough space for her heaving, bare bosom. Spreading his long, muscular legs, he took his time sizing up her curvy, compact physique. Under his ancient spell, she could not budge a millimeter.
"Hmmm, didn't I 'av you wrapped around my finger sur le balcon moments ago, woman?" he grilled her. He enunciated woman in the primal way that he liked to imagine the word was intended, exhaling hard enough on the first syllable to crack a rib.
"Correction," she quipped with a beguiling smile that would have made Eve hiss. "You twiddled several fingers inside of me a half-hour ago."
"Qu'est-ce que c'est, er, dees tweedel?" he inquired, feigning annoyance. "Unh, Josie? Je sais mes doigts pénétraient cette chatte. But let's not parse 'airs, bébé."
"Don't kid me, Bene. You were right up on my landing strip. Not too many pubes down yonder," she volleyed, barely able to stop herself from snickering.
"Quoi?" he asked, groping his bullish balls. His entire body shook when he laughed. Holding the tray was a lost cause; he preferred to hold her. Floating on Maxwell's vibe, he crooned close to her ear, "I wanna rock weef youuuuu."
"Heyyy, don't crush me," she said, pretending to thwart his advances. "Stop!"
"I can't stop. Won't stop. I've got a crush on you, sweetie pie," he teased.
"Please don't mix Sinatra with Maxwell," she playfully cautioned. The neosoul singer's falsetto voice enveloped her the way in which she wanted to embrace her lover's behind while she sucked the length and girth of "Big Bene."
"Kiss me, girl," he commanded, bending toward her neck until his coarse locks brushed her shifting shoulder blades.
"Don't pressure me, Frenchie," she taunted, waving away his oncoming kisses in jest and pressing her full C cup tits against his flexing pecs.
The afternoon's last burst of light poured into the room, forcing her to squint up at his handsome face. She yearned to dissolve into his eyes while melting like fondue in his embrace — but then he might settle for une bonne baise, she reasoned. As Maxwell crooned to fade, she allowed her eyes to adjust to the intrusive light until it felt warm and inviting. Clinging to his forearms, she batted his reflection into her liquid brown eyes. Then, after taking a few jaunty steps backward, she caressed her soft, glowing skin from bouncing breasts to flared hips.
Big Bene sprang farther north, and his owner nearly tripped on a scatter rug as he grasped for Josie's supple womanliness. She smiled and stepped just out of reach. He stopped short of calling her a cockteaser, choosing to howl at her vampiness instead. She hooked onto the current groove and sang along with her man as Marvin Gaye's layered, harmonic vocals led the way on the mix CD's track-in-progress:  "Come here, sexy baby. Let's get to this. Ooh!"
Beaming a suggestive glance at her partner's taut, dark loins, she licked her lips the way that she desired to slather his scrotum. She was experiencing déjà vu, something divine, but a more erotic paramnesia than Dionne Warwick's before her "Psychic Friends" phase. Bene returned a sly smile, connecting with her on the same memory:
Aboard the shiny bullet train destined for la Côte d'Azur, in first class thanks to Bene's frère Jacques, they shared a salty snack of anchovies in garlic-infused olive oil, with all the pain one could eat. Then she pivoted toward him and said, "Baby, I'm thirsty." He promised he would order her a bottled water, "but first," he said, "you got to free dees 'ard cock and sweaty balls."
Before he could utter another word, she replied that she would do anything for him. "N'importe quoi, bébé," she snarled sensually. And just like that, she dropped to her bare knees between his legs, swaying in harmony with the locomotive's rhythms and prying open the zipper against the expanding bulge in his white cargo capris. Turned on by her lover's hellasexy groans for relief, she tasted the copious saliva beginning to spill out of her furnace of a mouth.
"Unh-hunh, girl. Do me, yeh," he urged, nearly fully rousing an antediluvian, rotund Gaul seated behind them from his slumber.
Josie figured the fat fucker was pretending to sleep, but wanted to find out his M.O.  She unroped her hair from her lover's fingers and, against his feeble protestations, slinked up to her seat like a P.I. doing an impression of a Pussycat Doll.
"Où vas-tu, J — ?" Bene received a dose of shut-it.
"Shhh," she told him, French-tipped forefinger to burgundy matte lips. "You'll see."
Despite the adventurousness of her promise, he rolled and then shut his eyes.  "You owe me big time, Josie. When we reach 'Le Yaca,' I will not let you leave la chambre for forty-eight hours."
"Hmm, I've heard of sex tourism, but sex terrorism?  In St-Tropez?" she joked. "I shudder to think what you have planned for our stay in Èze, with all those cliffs and narrow, winding medieval paths."
"Take it easy, 'oney.  Or should I say 'E-z-e.'"  It was his turn to tease.
"One more corny joke and zero fellatio for you, monsieur," she said, raising a dark, feathered brow. She crawled closer to him. A few inches further and she was peering between his dreads at her suspect.  Sleeping Beast.
Without staccato strings to warn her, one blink brought her mascaraed eye to fluttering eye with the imposter.  Upon further investigation, she discovered another eye was open — the one drooling on a flushed cockhead bursting from ruddy, calloused fingers. Turning from sleuth to slut in a Provençal minute, she batted her Mod-thick, navy-blue eyelashes at him.
With a smile as dirty as his broken fingernails, he greeted, "Bonjour, mademoiselle," sounding like a wounded, old Pamplona bull staggering past the victorious toreador toward the blurry exit gate. He had digital speed, though, jacking off his gnarled, veiny shaft. Then his lusty vocalisms began: "Ohhh … Ohhh … "
Cutting her eyes away from a pair baggier than Jean Reno's, she ogled his onanistic action with such intensity that her dark blue lashes started twitching like tiny, restless tarantulas. Repulsed and aroused, she ached to sting him.
"Ohhh, ma chère!" the man exclaimed as the train's robust whistle warned a hot-rodder not to attempt outrunning the gate.  Or, put another way, to tempt fate.  "Grrrrr," he groaned in the direction of Josie's stare. And softer still, "Mmmmmm … "
Sunlight found the sex detective squinting, but she refocused her eyesight to take in orderly rows of lavender plants praise-dancing in a gentle summer wind.  Lavender fields of Provence meant the TGV's terminus, in St-Raphaël, was near.  The natural floral fragrance wafted into their stylish rail car, penetrated her pores and compelled her to disrobe between richly upholstered seats.
Her lethargic suspect appeared oblivious to the dazzling landscapes whizzing backward, flapping his spent dick against his hairy potbelly to the train's rhythm.  Afraid that she might give Bene a mixed message, Josie tried to compensate for lost time and leaned down for a hot kiss.  He may have had a head for soccer, but his nimble hands captured her softly tumbling breasts. Raccoon eyes sealed shut, she could feel his dark orbs studying her face while she tasted his probing tongue.
After a brief excursion to paradise nestled in his arms, she slithered her nude bod down to the floor while he grunted his approval and closed his slanted eyes.  Gazing up at his striking face, she whispered, "Ouvre les yeux."
"Pourquoi?" he asked, playing dumb.
"I want you to watch me pleasing you.  And," she added, kneading his inner thighs, "you've been such a patient man."
"Oui, Josie. You're always worth the wait," he told his wily lover as her dense tits' rigid tips tingled the prickly flesh up and down his tight legs.
Excitement trickled from her thick areolae to her dewy, protruding clit. Staving off an involuntary orgasm to focus on her beau's earlier command, she kissed her way up his bare calves.  He possessed the tibulas of a champion cyclist, except that his lance had more stamina without the effects of steroids.  As she continued pressing her pillowy lips into her man's muscular legs, she heard la bête reviving his deformed cock.  Snickering, she was delighted both to have and to be an audience.
Just then, Bene piped up: "C'mon, Josie. Get to licken ma nuts. I want to 'ose you, 'oney … Aaahhh … "
She knew he wasn't playing around when he referred to his erect penis as a "hose."  She didn't care that he omitted the "h."  His African cock was a formidable tool.  When Bene was living in New York City, his big dick was partly responsible for her quickly using up sick days — time spent home because sitting at a teacher's desk drew an intimate kind of pain.  On his part, he occasionally suffered wrist sprain.  Gradually it dawned on her why he sometimes needed extensive breaks between paintings. Long breaks for long strokes.
When the blue-striped silver locomotive emerged from a tunnel that was carved into a craggy mountain, it took a curve before building to speeds of one hundred seventy-five to two hundred miles per hour.  It seemed, to the young exhibitionists, to fly above sleepy villages of pastel houses and sprawling vineyards. Bene and Josie were always down for a supersonic adventure, so she clung to his strong thighs while propping herself on sturdy knees until her buttocks were hugging her heels.  Such a position was a prerequisite for public cock sucking in the manner that her boyfriend preferred.
Clearing her throat so she could swallow without gagging was the sound effect that had him choking his meat inches from her face. "Oh yeh – c'est ça. Oh, fuuuuuk," Bene tried to whisper, but his burning passion could not be silenced.  "I'm, I'm, ahhhh … I'm going to spray you weet ma love."
Blistering with desire, Josie felt her pussy leaking juice onto the railcar's vibrating floor like the drip-drip-drip of gasoline from a high-mileaged car.  If any of the passengers had breached the non-smoking policy and allowed a cigarette to roll into her pooling fluids, the entire passenger car would have been set ablaze.
She moaned on his generous frenulum.  "Mmmmm … mmmmm … "
Experiencing one delicious tremor after another, Bene inhaled deeply, looked down at her bobbing head of locks and asked her, "Didn't I say to lick ma nuts, woman?"  She knew it wasn't a question, but a command.
Drool escaped from her mouth as she tried to smile her acknowledgment.   They both knew how much she loved slobbing his knob, but she had to take a six-second break to remark: "You are such a tease." Then, once her jaws were realigned, she continued pleasing Big Bene.
"Yeahhhh, c'est çaaaa," Bene said, his voice riding pleasure waves.   Mais, pas d'autres questions, petite amie." Switching pelvic gears, he began drilling his girlfriend's steamy mouth with dick.  Halfway out his pants, he was feeding her need with head.  While one hand fondled her chunky nipples, the other rubbed his pulsating, purplish-black head on her wagging, hot-pink tongue.  Hearing her uneven moans singe the edges of his dreadlocks like flames searing moist banana leaves drove him to prod his sex against her gums and along the lining of her cheeks.
Determined to cleanse his scrotum of perspiration, she reached out to give his boys a gentle squeeze. Then she lunged forward to circle the tip of her warm tongue over the cool coils.
Behind the busy duo, the lubricious stranger was ruddy-faced and close to foaming at the mouth. Sprawled over two semen-stained seats, he was straining for a second set of eruptions. To her surprise he asked, wheezing, "Young lady, won't you give yerr bon-papa an 'and?"
"Putain!  If you don't shut the 'ell up!" Bene addressed the older man in an attempt to thwart any obstacles to his own climax, especially the voice and smell of a spasming man.
"Don't get upset, bébé," Josie cooed, caressing her lover's balls while the old bull behind them profusely apologized.
"J'en ai assez de lui," he returned.   She agreed with him, having had enough of le voyeur, too.
"Mon amant fougueux, lève-tu ici," he ordered her, pointing to his succulent lips.  She obeyed, inching her way up until their quarter wedges made a whole and, on her ascent, trailing cum along his legs and thighs.
When his nether zone began to tingle in the absence of her tongue, he commanded her to "reviens à ce que tu faisais."  She did not need him to repeat it; she slithered back down on all fours to the sticky floor like a traveling courtesan.
As the sleek train raced toward The Riviera, Josie flexed her French-tipped fingers and toes as she enjoyed pleasing her man. Pausing only to sweep back her locks, she bathed her boyfriend's dangling sac while his dark brown rump rocked to and fro in the cushy seat.  Contemplating how he next might do her, if he could resist dozing off under the spell of a speeding train, revved up her libido.  There would be plenty of time for reflection as they strolled pebbly Mediterranean beaches, read each other poetry in courtyard gardens and smooched beneath swaying palm trees.However, balancing love and lust in the present, and zooming on wheels through space and time, she wanted action.
Josie licked Bene's balls clean until he wailed softly in Wolof — and the portly voyeur joined him in a tenor duet as he skeeted on his dining tray. Her front teeth nearly nicked her honey's nuts when she started laughing at the horny harmony.  Finally, she had earned some bottled water.  Still, with the ochre cliffs and turquoise sea of la Côte d'Azur drawing the train closer like a giant magnet, she desired to drink of Bene's ocean.
While other first-class passengers, including their obnoxious neighbor, snored and farted around them, she blew Bene.  His mind, too. Not long after she gulped down his semen, it was her turn to receive. Gravity shifting from the rapid train and a darting tongue, she sat upright but soon acquiesced to squirming in liquids that soaked down to the plush seating. Far outpacing the train's engine were whirling sensations from her uterus, down her channel and out to her engorged labia and distended clit.
By the time the Mediterranean sun dipped closer to scalded mountaintops, Bene's bloated lips were enveloping most of his woman's extraordinary vulva and she was hallucinating auras flashing around country cows that grazed several feet from the tracks.
"Mmmm … Lèche ma chatte!" she commanded him.
When his jaws went from sore to numb, he doffed his cargo capris, flung off his braided-leather sandals and switched to pumping his girl's pussy while she gyrated in his lap to French raps on his iPod.  He was only slightly annoyed that she was listening to music but figured she needed to get in as much French as possible.  She did.  His invasive cock spoke volumes, but his entreaties were muted.  Once he unplugged the earphones, he turned her chin to suck some tongue until she struggled to catch her breath.  Their long, wet kiss had her moaning into his throat.  Slowing down his upward thrusts, he asked if she was okay and she smiled her satisfaction.
"Just don't stop fucking me, baby," she said tremulously, moments later.
"Pas problème," he lustily agreed.
"Jamais!"
"Never, Josie."
"Promise?"
"Oui, je promets.  Aaahhh … Toujours."
"Oh, Bene, I trust you.  Just fuck me.  Baise-moi!"
"Plus dur, ma femme sexy?"
"Yeah, harder, baby.  Slay me with your grande bite noir!"
From her luscious mouth Bene heard "bite" rise several octaves just as a pair of chestnut-brown horses trotted parallel to the steel tracks and whinnied their "bon voyage" in silence. With her bare back still turned to him, he wrapped his strong, safe arms around her tighter.  Switching to their own, ritualistic drumbeat, they began slapping privates more insistently. Their heads spun in a carnal vortex as if they were carousel horses interlocked in ecstasy.  As Josie galloped on Bene's wood toward orgasm, spurring his athletic legs with her pumiced heels, she listened to his telltale gasps behind her.  Puffs of his torrid breath wafted through drenched locks that he had parted at her nape.  Every time he exhaled, she was transported to le désert de Lompoul du Sénégal, where she imagined that God was fanning her as she performed a rain dance.
"J'arrive!" she cried from the peak of an orange sand dune.
"Uhmmm, moi aussi!"  He was coming too.
Riding the rails through the South of France, the ardent lovers were at home in one another's intimate embrace.  Like rainbow-colored European Bee-eaters trilling and performing air maneuvers above green-carpeted mountains, Bene and Josie were making music and gliding on magical currents.  Inspired by her beauty and fantasizing that she was his captive, Bene grew more inspired by the minute.  As did his cock, though by the second.  Soon his consciousness expanded and his dick hardened to bone inside her cave.  Soon their voices converged to dulcet tones.
When the southerly train chugged along a stretch of recently repaired track, their genitals smacked together deliciously to its rugged rhythm.  Framed by the wide window, the lovers remained glued to each other and gazed with glazed-over eyes at the natural landscapes that had bewitched generations of resident, nomadic and mad painters.
* * * * * * * * * * * * * * * * * * * * * * * * * *
"Mmmm … Des fraises ou tu?" Bene charmed her in the salon. "I don't know what to eat first, ma chérie," he said, grinning and pointing a long, dark digit down at her dripping pussy as he cut a dirty-dance figure on his approach.
Mesmerized, if not hypnotized, by the obsidian twin pendulums between his sculptured thighs, she salivated while drinking in his chiseled sight. "Let me do you first, baby," she said, giving him her Princely best.   "Pulleeeze!"
But with Marvin in his ears and seeping from his pores, he took the upper hand, even if it was long-stroking his dick in that moment.  "I want to take you over zere," he cajoled. Feeling the sting of his girlfriend's glare, he switched to a tender tone:   "Viens ici, Josie."
"Oui, oui, mon amour," she complied, taking his warm hand as he led her trembling body back to the large, burgundy shag rug in the shape of Mamma Africa.
Bene's smile reached his eyes, which trailed his lover's serpentine descent. He walked a short distance to fetch the cold tray of fruit, then dropped down to his knees to join her. Balancing the tray, he displayed a waiter's poise, something on which she commented until he swerved a remark her way: "Oh non, mademoiselle. I plan to service you in a manner that shall satiate all hunger and all thirst."
Once he lay parallel to his Black Venus, with only the fancy tray of berries heaped upon crushed ice between their scorching nude bodies, Josie sucked her swollen bottom lip in anticipation. In her restless, horny mind, her thick tongue mirrored her engorged clit's glans. Scribbling over her erotic imagining, she wagged a forefinger to the cyan, reptilian fertility goddess that she had conjured up, warning: "Gurrrl, this'd better not be a fuckin' mirage."
Between nibbles of her neck and chilled strawberries, Bene explained that the key to his daily contentment was knowing who he was through stories and documents that his parents, grandparents, great-grandparents, uncles, aunts and cousins shared with him. Josie half-listened to him, but succumbed to Will, as in Downing, whose calypso flava on the remake of "You Sure Love to Ball" elevated her libido to a plane that she had never thought attainable. Bene, ever the expert programmer, exceeded in guiding her there. He was teasing the tip of her nose, a cheek and her eager lips with a plump berry. Every now and then he paused his narrative to lick the tart red juice off her tongue, from the corners of her mouth, and out of deep labial crevices until moans grew to shouts that were anything but pious.
Midsong, Bene tossed aside his cherished family photos to focus on the exquisite pleasure in which he and Josie were submerged like awestruck scubadivers. Not only love-lust but wetness was all around: the suggestion of oceanside lust in the uptempo song, melting ice — pink like her favorite bubbly — in the dainty Limoges tray, and viscous strawberry nectar that blended with her own from her navel to her feet and up her calves and thighs to her beachball-sized butt. Downing's ecstatic baritone, the liberating percussions, effervescent guitar chords, Bene's suckling and licking (hers, too, when the six became nine), and all the splashing fruit juices were almost too much for her ears to bear. Where aural sex and oral sex converged, Bene was a server like no other.
Memory served her well, too. Back in the States, before their nerve-wracking separation, Bene had been masterful at pleasurably torturing her aroused body and mind. After neighbors — hers and his — could not distinguish between her screams of passion and a crime victim's shrieks of terror, they began calling the cops. Josie would curse herself for screening videos of 9 1/2 Weeks and In the Realm of the Senses for him much too soon after they had met at the bookstore.
Now here she lay in his eighteenth-district flat, surrendering her fears as he made her limp body ache through a third dimension of foreplay. French-style. He was teasing her reawakened, firm, ripe cherry with the conical end of a succulent strawberry. Although his stiff cock pulsated from his groin until it gonged throughout his being like petrified wood, he was a patient man. However, a minute man he was not. Through discipline inherited from his forefathers and occasional studies in tantric sex, he had learned how to stretch his and Josie's lovemaking from the dinner bell to the breakfast chime — in Paris time.
Once he finished linking the branches of his family tree and had his girlfriend writhing in her own lubrication, he guided her to a black Italian leather sofa across the spacious living room. Weak with unresolved desire, she had struggled to raise herself from the rug, much less walk. Her boyfriend clasped her waist, helping her waddle over to the sofa.
Resuming the squishy action from the burgundy shag rug, Bene's brawny hands stroked and wandered among his lady's extraordinary, turgid labial folds. As her inner waves intensified, she responded in an oceanic song that fluctuated between sorrow and mirth. Instinctively, primally, he knew when to dive into her deep.
Before he could mount her feverish, red-splotched body, there was a tantalizing change of pace in the background: Leon Ware's seductive voice lilting over a sensuous Brazilian rhythm and a persistent acoustic guitar riff. Despite Josie's flustered state and his pressure cooker of a penis, the lyrics to and mood of "Let Go" reminded Bene that cherished love, with its inextricable, healthy obsessions and perpetual rewards, is harder to come by than sex. Josie intuited that, too, as she arranged herself into the lotus position. She didn't remain seated for long.
After ruminating over the abstract values of love the way critics and curators mulled over his canvases, Bene surrendered to the masculine surge of sex. Palm to crown, he stood before Josie as she bound her locks with a Scrunchie.  When their eyes met, she invited him to "ride me toward dusk."  He lifted her and set  Leaning over his paramour's soft back, he conquered her slowly. As he climbed her spasming walls, he coaxed, "Cum for me" while Ware whispered, "Let go."
* * * * * * * * * * * * * * * * * * * * * * * * * *
Despite Josie and Bene's deepening love and affection, and their numerous discussions about her cultural and metaphysical reasons for desiring children with him, her reproductive system had a mind of its own. He tested again. She tested again. The answer kept coming back like a huge forefinger pointing at her, not at him. They contacted holistic doctors through her insurance plan; Candomblé faith healers through her Black Brazilian stepmother's Bahia-by-way-of-Newark network; a Marseilles-based Senegalese shaman; traditional clergy in New York City and Paris; and French and American fertility specialists through Bene's guardian angel, Jacques.
Finally, when a New York urologist reconfirmed Bene's fertility, saying, "Mr. Ngewale, you could repopulate the entire Western Hemisphere," the young man aborted his art school studies in time for the wine harvest in the hilltop village of Montmartre. He jetted back to France, leaving Josie in the dark. Frequent fornication and insomnia followed — respectively, his in Paris and hers in New York. A year of estrangement ensued.
After the new semester began, a war in which hijacked commercial jets were used as missiles was waged on U.S. soil for the first time, and New York, Pennsylvania and Washington, D.C. were hit. When the attacked Twin Towers crumbled, the death toll continued to rise. Café Expresso came tumbling down, too. Post-9/11 angst was heavy in the air. In the period of worldwide healing that extended into 2002, Bene called Josie and apologized for abandoning her. By January's end, her luggage was packed. By the second week of February, she had landed back in Paris for good.
Their intimate reconnection had been delayed by government red tape — a failed attempt at obtaining a green card — and last-minute fears on the North American side of the Atlantic. Leaving her biological loved ones had been emotionally difficult, but making a major life change as an expat in France so that she could be with someone she had chosen to love (and vice versa) was crucial. She thanked God and her high-school English teachers for advising her to major in English in college, with a minor in education. Ironically, she had planned to defy them, somewhat, minoring in French literature. However, she exceeded their expectations, though probably not her Creator's, by earning a master of science with a thesis on educating multicultural children in inner cities amid power structures' socioeconomic and psychological abandonment.
Several suburban Paris schools vied for her appointment not only for her academic credentials, but also for her well-documented expertise in handling sensitive issues among students from Black and Brown families in New York City's poorest urban neighborhoods. A work visa expedited to her address was reason to celebrate with her teacher friends at Les Halles down on John Street after work, but only after she had e-mailed her man.
Swirling her Cognac in an impossibly clean snifter, she cursed the vast time zone difference. While her friends gossiped about which colleagues were taking turns sleeping with Principal McDonough, Josie eyed her Citizen wristwatch. In Paris, it's a stroke after midnight, she mused. Sigh. Je veux s'embrasser. She longed to kiss her lover.
Her blabbering co-workers ignored her moist eyes, the downward shift in mood to what her Brazilian stepmother, Cara, referred to as triste. Contours of the classic Jobim song "Triste" softly bounced throughout the resto's intimate space, transforming the delicate clinking of silverware against china into epicureans' percussive delight. Black teardrops told a Maybelline lie as Jobim's shrugging melancholia emoted what Josie could not translate from Portuguese lyrics.
Meanwhile, the educators' dialogue at the dinner table was turning tawdrier by the minute, pushing Josie further into her thoughts. I'd trade eating a steak entrée in a fancy Manhattan restaurant for serving Bene my 'gina for dessert in his bed — our bed. Visualizing his hunger for her after more than a year of estrangement, she rewound the long-distance fantasy to the part where she closed her eyes as he eased her misted body down to the center of the bed:
His alternate ladling and spreading of her cheeks cued her eyes to blink open and for her generous genitals to invite his elongated tongue to wiggle against their engorged, scalloped lips. He liked telling her that her vulva was "scuba-duba-duuuuu!" Inspired, she broke into song, babbling, "Chabba-dabba-da, chabba-dabba-da" while he hummed organ notes on her clit — a perversion of Un Homme et Une Femme's iconic theme song that would have mortified its composer, Francis Lai.
Bobbing up for air, Bene waxed poetic and clarified that Josie's feminine parts were "a treasure worth diving for" and "the ninth wonder of the world." "Bien sûr, après le miracle huitième:  ma bite," he added with a grin that exposed firm gums that were almost as dark as his nine-inch, wonder-filled dick.
Following some nasal laughter and double entendres between them, Josie tried to have the last word: "Ah, but the sea can be heard from my equipment."
"Yeh, I can hear la mer, but you cannot — unless you've been training as a contortionist in Québec weef le Cirque du Soleil," he quipped.
In the present, Ella's undulating voice had the classy downtown bistro under her chordal spell with "April in Paris," followed by "A Place for Lovers." Sigh. Josie pushed away her china plate of partially devoured steak au poivre, sautéed Swiss chard, and garlic mash. "But not that," she politely protested when the server tried to clear her near-empty snifter from the group's cluttered table. "I definitely plan on finishing that." Draining her glass of Cognac, she slurped and gurgled, to her three work friends' intoxicated snorts and giggles.
* * * * * * * * * * * * * * * * * * * * * * * * * *
"Oui, at 17:00. À tout à l'heure," she remembers replying to Bene back in the Internet café. There, her smile attracted a North African fellow with bed hair and a five o'clock shadow to match. Faster than sugar lumps in un café noir, her confidence began dissolving under his intense stare and unspoken innuendo. It had not occurred to her before that she was possessed by Colette's ghost. Leaving behind her oyster crocheted cloque hat, she dashed into the drizzle. Upon her emergence from the métro exit across from l'Opera Garnier, the light rain had transformed into a winter shower.
Now, Josie's thoughts turn to Bene, not that they can keep her dry:
At roughly 4:30 p.m., he will hop off the ligne número six and execute a jump shot against the orange "Correspondance" sign dangling high above the subway platform — something that he used to do to impress her, a Black American in Paris for the first time. Like Gene Kelly's painter awaiting his Muse/love — salesgirl Leslie Caron — by the Seine, Bene's heart will be thumping in anticipation of drinking in her sight. Later, with bedsprings creaking from their unleashed fervor, he will thrust between her brown-butter thighs for the first time in a very long time.
Soon, a saxman will wet wine-brown lips resembling her lover's, wrap them around the mouthpiece and flex his mahogany fingers on brassy valves until he channels Coltrane amid soaring, scattering, shiny euro coins. To the musical accompaniment, her statuesque Senegalese-French paramour will take giant steps, with the energy of a winning player at a chessboard, from the lower platform of the subway station to the horizontal escalator.
Now time would always be on Josie and Bene's side, the same side of a treacherous ocean. Starting at 5 p.m., no longer would they need to do the arithmetic to decide how late or early to phone or webcam one another. She is hoping that, while she is primping in a mirror in the iconic center of Paris, he will be traversing the ground above la gare at l'Étoile – breezy la Place Charles de Gaulle – bumping and brushing past commuters as if they were boules.  With only her on his mind, he would be committed to embracing her at the designated time.
Crossing the Avenue des Champs-Êlysées, Josie feels exposed.   Vulnerable.   Money she could have spent on an umbrella is saved for lunch and snacks as she weaves her way through the city's disparate arrondissements to meet her man. Raising the collar of her six-year-old Jones New York trenchcoat to cover her ears and the edges of her dense, dark-brown locks, she runs against the wet wind.   As heavy as her coat feels on her petite frame, she remains undaunted by Nature's petty storm.  This challenge to her destiny and his holds the promise of love's reward.
Through the assaulting downpour, Josie's rational self whispers for her to seek temporary refuge:  À gauche — une pâtisserie.   To the left, a pastry shop. Peering through a diagonal curtain, she narrowly misses getting flattened like a crêpe by a cyclist rehearsing early for Le Tour de France.  After a minute's hesitation she ducks inside the shop, spots a tiny faux-antique table and, like a prima ballerina, executes un grand jeté en avant to claim it.
Un café crême to her right, un pain au chocolat front and center, and arousal top to bottom, she is caught up in a daydream:
He will chase her in and out of the Arc de Triomphe like a black stallion pursuing a brown mare, rendering her breathless. With eight inches on her — not only heightwise — he will press her back against the smooth stone and lift her until they are chin to chin. Indifferent to passing strangers and to the wind whipping their coats open, he will kiss away the words from her beseeching lips.
Aiding her torso's gradual descent to his strong chest, he will suck pinches of flesh in a reddened trail from her neck to her cleavage.   On trembly legs he will support her with a colossal hand in the small of her arched back and lower her moist, quivering cunt onto his petrified cock once and again until their unbridled movements chisel fault lines into the monument.
Cued by their reunited joy, a symphony of grotesque moans, a flock of pigeons will line up with Hitchcockian precision atop the arch.   As they take flight in formation into the purple expanse, their flapping wings in silhouette will evoke mobile découpage.   The rainstorm will seem a distant memory drowning out sorrows from two lovers' previous lifetimes.
That luscious preview distracts Josie from the surrounding, intellectual fracas.   A half-hour into her second cup of coffee, she is flicking away any doubts about a rekindled romance as if they were stray embers from a freshly lighted cigarette twiddling in a scruffy poet's slender fingers while he argues socialist politics with his dapper, older companion.
* * * * * * * * * * * * * * * * * * * * * * * * * *
A gentle nudge startles Josie awake from a corner table at a cybercafé on Lower Broadway.  Not one nasal note, not one interjection of "Bon," "Oui," "Donc" or "Alors," is uttered among the rainbow tribe of customers.  Merde, she curses inaudibly.  The annoyed café manager sent over a twentysomething barista to do her dirty work.  "No sleeping allowed," the younger woman scowled at Josie.
No, this definitely isn't Paris, Josie reminds herself.  Neither the manager nor the barista could guess that she was one sista that needed a siesta, not simply a nap.   After hours of e-mailing a slew of résumés and cover letters from her laptop in pursuit of university-level teaching positions, she had dozed off and her unconscious mind had hurtled her back through time into la joie de vivre of finite yesterdays.  Pensive, she glances down and reminds herself that the catalyst that she needs to bulldoze her toward the future is within her.
Although that permanent job is elusive for now, her mind is ripe for Proustian inspiration.  Her problem, regarding the latter, is that she cannot honor remembrances of flings past because her memory reels are stuck at Bene — Ousebene Ngewale — with whom she experienced her first fully reciprocated, mutually exclusive relationship.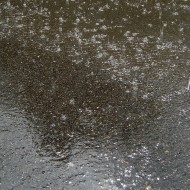 Outside the Internet café twenty minutes later, rain is decending in metallic sheets, but Josie is staying put because there is no lover waiting for her despite the fact that it is Valentine's Day. No reason to risk injury, she reasons.
"Loneliness is an old, faithful pal," a now-retired teacher, Curtis, once told her after she had found him with a palmful of damp Kleenex and attempted to comfort him.   Two weeks prior, his wife of forty-five years, Judy, had succumbed to pneumonia after a long, undisclosed illness.   He blew his lungs out into a used tissue and said, "But I'll say this, Josie.   It's the grief nagging your spirit in those mundane moments, hectoring you in hyperconscious dimensions of solitude, that can wear out its welcome."
Fatigued, Josephine B. Ngewale looks away from the weather-beaten window and stares down into her stagnant coffee.  She swirls the murky liquid in the recycled-paper cup like she had shaken the snifter of Cognac in Les Halles restaurant  a decade prior.  To her chagrin, no coffee, not even the frothy caramel-infused concoction that she cannot afford, is potent enough to wash down the misery of perpetual grief past the lump in her throat.
Thunder crackles over the Wall Street area as working stiffs seem to huddle together up and down Lower Broadway. It is no tickertape parade for baseball or hockey heroes.  A uniform sea of black, corporate drones appear to gather as if at a cemetery for a stormy burial. Making their way to or from ten-dollar lunches, they're stomping on graves tracing back to the distant and recent past: the African Burial Ground and the Ground Zero of 9/11.
Taking deep breaths, Josie tries to stave off a familiar claustrophobic feeling but can hear the hinges of her coffin creaking again. Then she breaks free of the satin lining, rubs the blood back into her petrified hands and remembers: When she and Bene first dated, they used to excavate New York City's buried Black secrets while shaking loose the noisy bones of skeletons in their own closets. Once reunited in Paris they chatted beneath Provençal-made blankets about the Twin Towers graveyard of splintered bones struggling to reach out for the warmth and comfort of the living, of mosaics of teeth chattering out messages of agony interrupted and love everlasting.
Then an idea jolts Josie like the lightning threatening to burst through the window.   Or maybe it's the phantom second shot of espresso that her shadow self requested.   She meditates on the notion of returning to Paris:  I must return home.  For good.  Pour de bon.   That's what Bene would've wanted me to do with the inheritance.  Et Bérénice …
Absentmindedly caressing the eighteenth-century, diamond-studded sapphire ring that her late husband bequeathed to her, Josie ruminates on a morbid theme:  I'm a widow.  Une veuve.  I'm widowed.   Bene's widow.  Sa veuve.  Veuf.  A widow.  Widow.   
Three months ago, at the reading of Bene's last will and testament in a fusty law office on the Right Bank of Paris, Josie learned that the ornate ring had been passed down through the matriarchal line of son pauvre mari.   Rumors about its links to French royalty notwithstanding, her heirloom ring, which Bene intended to gift her upon their tenth wedding anniversary, was appraised by a jeweler acquaintance of Jacques' and found to be worth a fortune.   Still, she vowed to herself never to hock it.
He's there, in Paris.  Bene, my Dakar star.  Waiting for me in Père Lachaise, she contemplates while the ambient song "Without You" swells from the cybercafé's powerful speakers.  But Bérénice …
* * * * * * * * * * * * * * * * * * * * * * * * * *
One idyllic September afternoon, when Josie was enjoying a scheduled day off for her birthday, Bene phoned her from JAAAAACQUES — the Marais art gallery owned and managed by Jacques' partner, Raul. Exhilarated, Bene explained between exclamations in French and Wolof that his longtime friend Jacques had just informed him that his oil portrait of her — Josephine, La Nuit — had just been sold for the asking price of a quarter of a million dollars.
"Wow, Bene!   Congrats, darling!"
"Meet me at l'Étoile, bébé.  Dees calls for a double celebration."
"Well, you already gave me my birthday present when you woke me up this morning.   Matter of fact, I don't think my legs are strong enough to carry me beyond our front door."
"Always de kidder," he said, laughing. "See you soon, Josie.   Je t'aime, mon ange."
"I love you more, mon chéri."
She wanted to express more, but Bene had released the call prematurely.
Josie had never showered so quickly.   Not until she was inside a taxi did she notice her mismatched leather walking shoes.   One black, one navy blue.   When the taxi reached l'Étoile, she spotted Bene's bike immediately, then his branchlike dreads.   One moment he was singing falsetto along with Usher in David Guetta's "Without You," holding up his iPod like John Cusack raising his boombox in Say Anything.   The next moment he was insisting that his wife remain on the sidewalk outside the métro station, telling her, "No, Josie.   I'll come across to get you."
Watching Bene smiling on his wheeled approach, she was so elated that she executed a Leslie Caron spin in her mismatched shoes.   Her "airplane" arms cut the soft breeze that flowed from swaying branches of colossal horse-chestnut trees on the Champs-Êlysées.   Midway through a second revolution she heard wheels screeching, the chaotic flapping of wings and — a horrifying, agonized masculine scream.   Her heart's syncopated rhythms sent her stumbling in the direction of discordant horns in a vehicular orchestra.
Jazz hands blurred into three pairs.  Her tan phalanges sliced the sky into murky blue hues.  Not yet, the big G.R. whispered into her rugged, shallow breath on the inhale.  Not yet, girlfriend, the gaunt, black-ponytailed entity repeated, arcing his surreally long finger above her head and pointing it across the street toward l'Étoile.
Upon glimpsing her husband's immobile body and his mangled bike beneath the front of a delivery truck, Josie emitted a series of abrupt shrieks that brought the sparse, oncoming traffic around l'Étoile to a halt.   Surrounded by feathered creatures bouncing on a trapeze of air, she collapsed.   The curious flock of pigeons circling the accident scene and squawking appeared to ignore her and mourn one of their own.   A fallen gray bird subtly bounced with a death twitch, finally resting on Bene's sneakerless left foot.
Revived by the inky stench of pigeon droppings just inches away from her face, Josie crawled up on her knees.   She rocked back and forth, too traumatized to utter a further sound.   One of the flock waddled closer to her than any pigeon had ever ventured in the absence of food crumbs.   Drivers abandoned their vehicles, some scratching their heads beneath caps and others offering the new widow supportive words, bottled water and jackets to ward off shock.
In less than twenty minutes, flics joined two ambulances in a deceptively mellow procession of sirens that blared their way toward the tragedy at the Arc de Triomphe.
* * * * * * * * * * * * * * * * * * * * * * * * * *
Usher's voice is weaving in and out of sonic wonder, haunting her but also reminding her of a paragliding daredevil in a state of ecstasy who shifts his body to help the apparatus maneuver between mountains.   "Without youuuuuuuu … "   Wide-eyed, Josie conjures up Bene continuously looping around her on his prized bicycle, his nimbus bathing her in pure light as if transforming her into son étoile privée on Earth.
The music vanishes.   Threading fingers through her thick locks, Josie allows herself a moment of Zen-inspired serenity.   She minimizes the window of job postings, then maximizes a blank Word page.   A hand flies to her bosom when she sees a message rippling across the screen:  Tu as mon cœr.
"And you have mine, Bene," she mouths a reply, her trembling forefinger tracing the letters of his supernal valentine.
Several relaxed minutes later her hands are caressing her tummy over the ecru jumper she recently acquired at a Salvation Army thrift shop, her fingers pausing at her distended navel's outline.  This will be for you, sweet Bérénice, she reflects.  You are my ultimate Paris love story:  "PariSoul."
Then, thoughts turning again to her eternal lover, she charges the keyboard like an avant-garde jazz pianist and her mind spins back to Paris, where hues of periwinkle, powder blue, marigold, rose, violet, fuschia, wine, navy blue and velvet black swathed her and Bene in love for nine years of tranquil mornings, blissful afternoons and sublime nights.
fin
© 2012 Chantale Rêve
All Rights Reserved
Source for top photo (l'Arc de Triomphe at Place Charles de Gaulle, with la Tour Eiffel in the distance):  http://en.wikipedia.org
Source of TGV photo:  http://www.raileurope.com
This entry was posted on 2012/01/28 at 2:20 pm and is filed under Erotica, Faith & Fantasy, Femmetaphysics, Mysticism, Public Sex, Straight-up Romance, Travel Fiction with tags "L'Étoile", Black Americans in Paris, Black erotica, Black romance, Champs-Êlysées, Chantale Reve, erotic romance, Leon Ware Don Grusin Candlelight CD, Negrotica, travel fiction, urban romance, Valentine's Day, Valentine's Day stories, Valentine's Day tales. You can follow any responses to this entry through the RSS 2.0 feed. You can leave a response, or trackback from your own site.
One Response to "L'Étoile"
Poésie…

[...]PariSoul: A Valentine's Suite « Negrotica[...]…